Christmas Tree Shipping Process
Shipping Prices
Shipping rates vary depending on the size of the Christmas tree you select and where you are located. To get a shipping quote simply add the item you would like to purchase to your shopping cart and then select the "Calculate Shipping" link which is located below the order total. You can then get a shipping quote by simply entering your State and Zip Code. Note that any Christmas trees that measure over 6 1/2 feet tall will incur additional oversized shipping fees. This is a UPS fee that will be included in your shipping total. We always do our best to ensure we are offering our customers the best shipping rates possible, but these additional fees are set by UPS and we are not able to bypass these fees.
Christmas Tree Shipping Time
When you order a Christmas Tree or Christmas Wreath online from Brown's Tree Farm you have the option to select the estimated date you want your Christmas Tree to be shipped. Each week we review our orders, then harvest and ship Christmas Trees based on their estimated ship date. Christmas Trees are shipped every Monday, Tuesday, and Wednesday. Typically, West coast customer's trees will be shipped on Monday while customers located closer to Michigan will have their tree shipped on Tuesday or Wednesday. Due to the volume of sales and the time required to box each tree individually, we cannot guarantee whether your tree will be shipped on Monday, Tuesday, or Wednesday. The chart below shows approximately how long your Christmas Tree will be in transit. You will receive tracking information once your tree has been shipped. Until your tree has been scanned by UPS at their location, your tracking number will not show a status, even though it has been shipped. While the transit times are typically accurate, UPS does not guarantee transit times for ground shipments.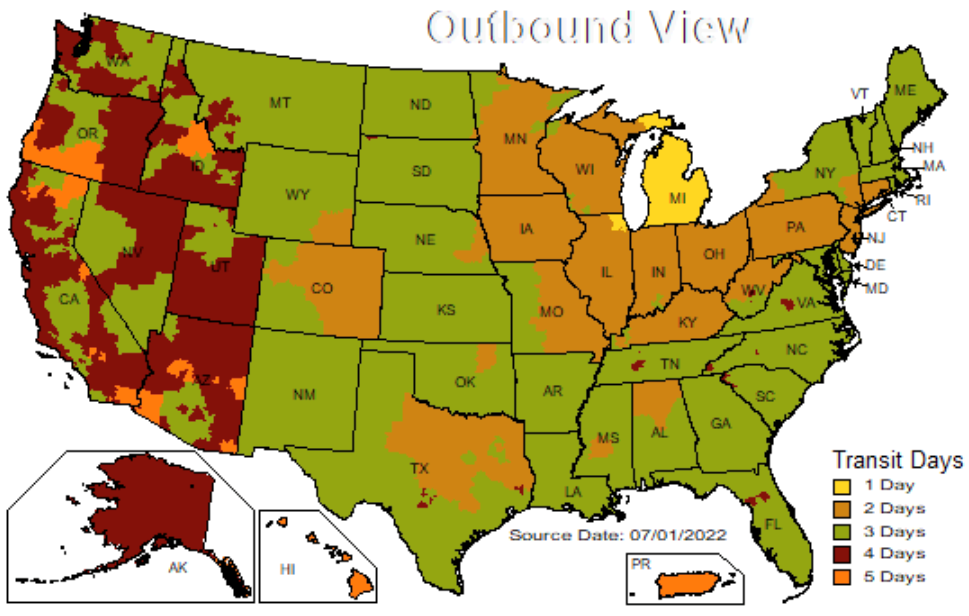 Christmas Tree Packaging
All Christmas Trees and Christmas Wreaths are shipped in a custom box to ensure they stay fresh. Each box includes your Christmas Tree, Christmas Tree Care Instructions and a FREE Tree Removal Bag. If you ordered a Tree Stand it will also be in the same box.